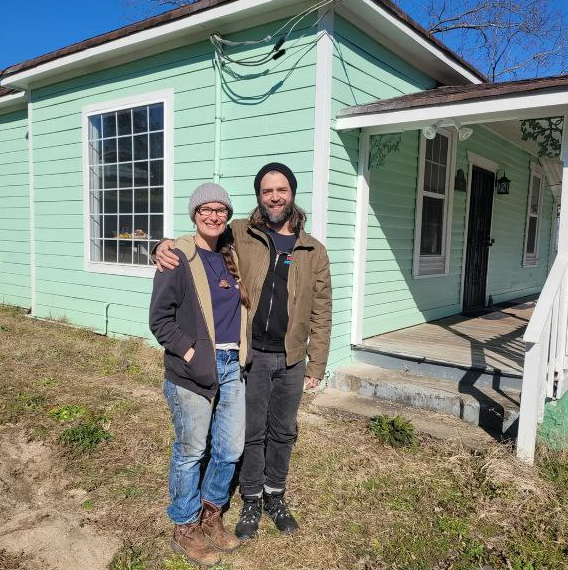 We bought a house and we're very excited. It's like buying a piece of history! This was the first house that we looked at, though we looked at a couple of others, and the first house that we bid on. Obviously, the house will need some work. From what I can tell looking at the floor from underneath, in the crawlspace, the original wood floors are still there under the carpet and laminate floor. The roof over the back bedroom will need some work because it looks like it was installed by an amateur and with little planning. The floor feels a little uneven in places, especially in the hallway outside the bathroom, but I think it's fixable. I can't wait to start pulling up the garbage floor and see what's underneath! I think it's going to be really great.
It's a cute little 1200sf house in Conyers, GA in a quiet and upcoming area. It's on a double lot, making the total lot size 0.6 acres. The house also came with an 800sf cinder block shop, which is almost as big as our current rental. Additionally, there are 2 other sheds measuring approximately 230sf and 180sf. The plan is for the 800sf shop to be my shop and office. The 230sf shed will be Alexis' office and studio, and the last one to be the indoor garden for greens, microgreens, sprouts, culinary mushrooms, hydroponics, etc. The second lot will be gardens and fruit trees in a permaculture style. In short, we have big plans.
Hopefully, we'll be able to get a lot of the work, painting, finishing the floors, etc. done before we move in. With that out of the way, we can move in and get straight to furnishing and decorating it the way we want. The best part is that we don't have to get permission from anyone!
Disclaimer: I've written much of the Saga of the 120-year-old House well after the events described. With this in mind, I've attempted to write as if written as the story unfolds, with as little foreshadowing as possible. Publish dates are approximate.